Hand Fed Tilting Drum Mixers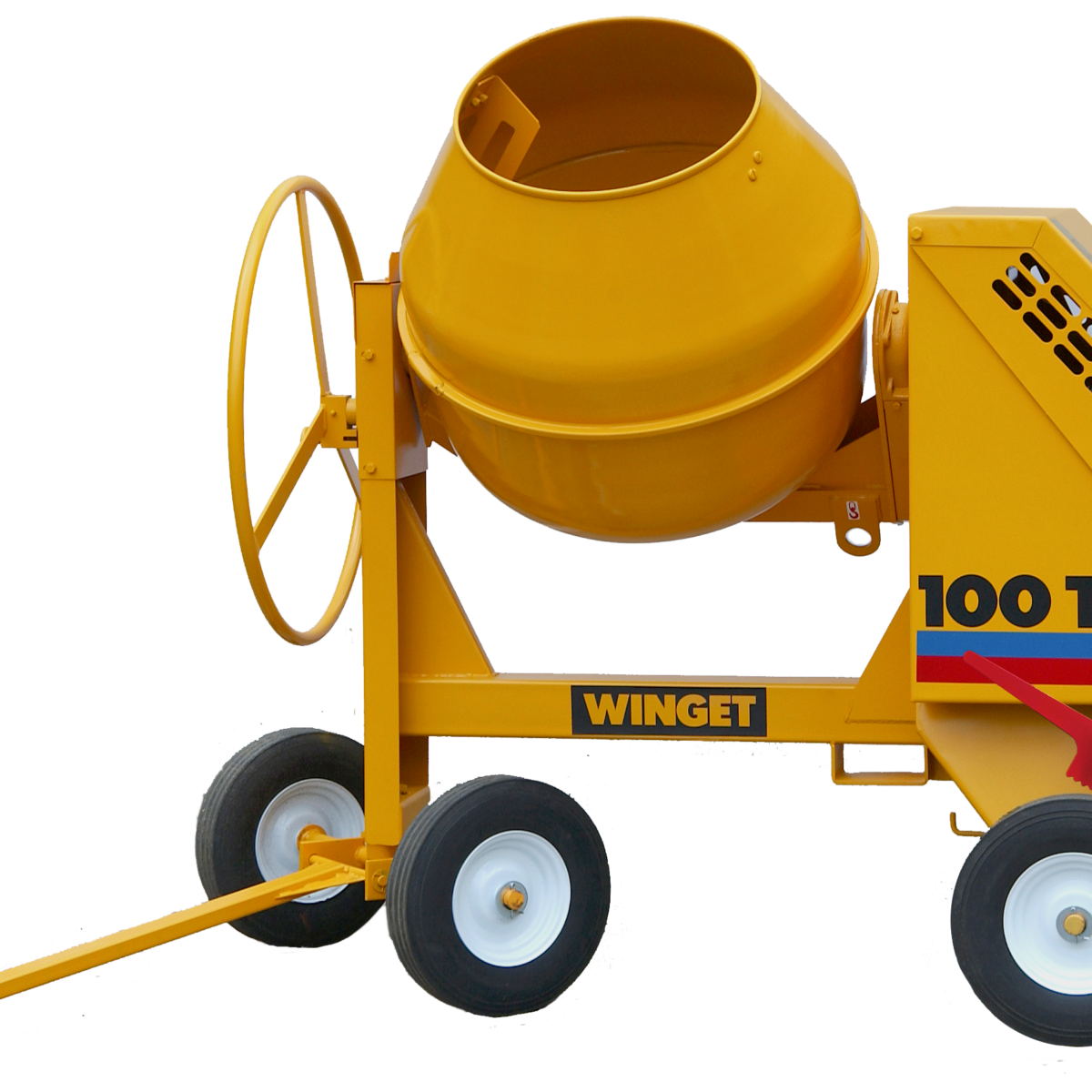 Hand-fed concrete site mixers from 100 litres to 200 litres mixed batch output
All models capable of mixing at a rate of 12 batches per hour giving production output rates ranging from 1.2 to 2.4 cubic metres per hour
Robustly engineered with fully enclosed drivelines, WINGET mixers provide safe, reliable performance and long service life
Positive, heavy duty driveline utilising bevel wheel and pinion.
Highly efficient, two piece heavy gauge, spun steel drum
Multi-position lockable drum
Fast Tow trailer models available with adjustable towbar, pneumatic tyres, mudguards and independent suspension
Available with Yanmar electric start diesel engine or NEW OPTION electric motor drive (single phase 110v).
WINGET is an ISO 9001 certified company
Second to none after sales spares service through WINGET'S Worldwide Distributor Network.
View our range below, or contact us if you need some advice.
Chassis: Heavy gauge, box section gives clean lines and less material traps. Fitted with lifting points.
Drum: Two piece, spun steel drum assures long life and easy replacement. Highly efficient drum design and twin fast-acting blades ensure thorough mixing and eliminate clogging and wasteful 'build-up'.
Engine: Powered by Yanmar L48 electric start diesel engine or NEW OPTION single phase, 110v electric motor.
Driveline: Totally enclosed, heavy duty driveline through roller chain, bevel wheel and cast steel pinion, (electric start mixers use 'V' belt drive).
Access: Good all round access to daily check points, service items and all replaceable components.
Operation: Careful design ensures maximum working space around the machine for charging, mixing and discharging.
Axles/Wheels: Fixed rear axle and swivelling front axle fitted with four rubber cushion tyres and towbar. Fast tow models fitted with two pneumatic wheels, mudguards and towbar.
Brochures
Products
WINGET 100T

CAPACITIES:
Mixed Batch Output
100 Litres
Unmixed Capacity
150 Litres
Gross Drum Volume
263 Litres
Drum Speed
22 rev/min
Production Rate
1.2m3/hr

WINGET 100Te (Electric 110V)

CAPACITIES:
Mixed Batch Output
100 Litres
Unmixed Capacity
150 Litres
Gross Drum Volume
263 Litres
Drum Speed
22 rev/min
Production Rate
1.2m3/hr

WINGET 100TFT

CAPACITIES:
Mixed Batch Output
100 Litres
Unmixed Capacity
150 Litres
Gross Drum Volume
263 Litres
Drum Speed
22 rev/min
Production Rate
1.2m3/hr

WINGET 150T (Diesel) & 150Te (Electric 110V)

CAPACITIES:
Mixed Batch Output
150 Litres
Unmixed Capacity
200 Litres
Gross Drum Volume
362 Litres
Drum Speed
22 rev/min
Production Rate
1.8m3/hr

WINGET 150TFT

CAPACITIES:
Mixed Batch Output
150 Litres
Unmixed Capacity
200 Litres
Gross Drum Volume
362 Litres
Drum Speed
22 rev/min
Production Rate
1.8m3/hr

WINGET 175T (diesel) & 175TE (ELECTRIC 110V)

CAPACITIES:
Mixed Batch Output
175 Litres
Unmixed Capacity
240 Litres
Gross Drum Volume
377 Litres
Drum Speed
22 rev/min
Production Rate
2.1m3/hr

WINGET 175TFT

CAPACITIES:
Mixed Batch Output
175 Litres
Unmixed Capacity
240 Litres
Gross Drum Volume
377 Litres
Drum Speed
22 rev/min
Production Rate
2.1m3/hr

WINGET 200T

CAPACITIES:
Mixed Batch Output
200 Litres
Unmixed Capacity
285 Litres
Gross Drum Volume
485 Litres
Drum Speed
22 rev/min
Production Rate
2.4m3/hr