4B Range (4 wheel drive site dumpers)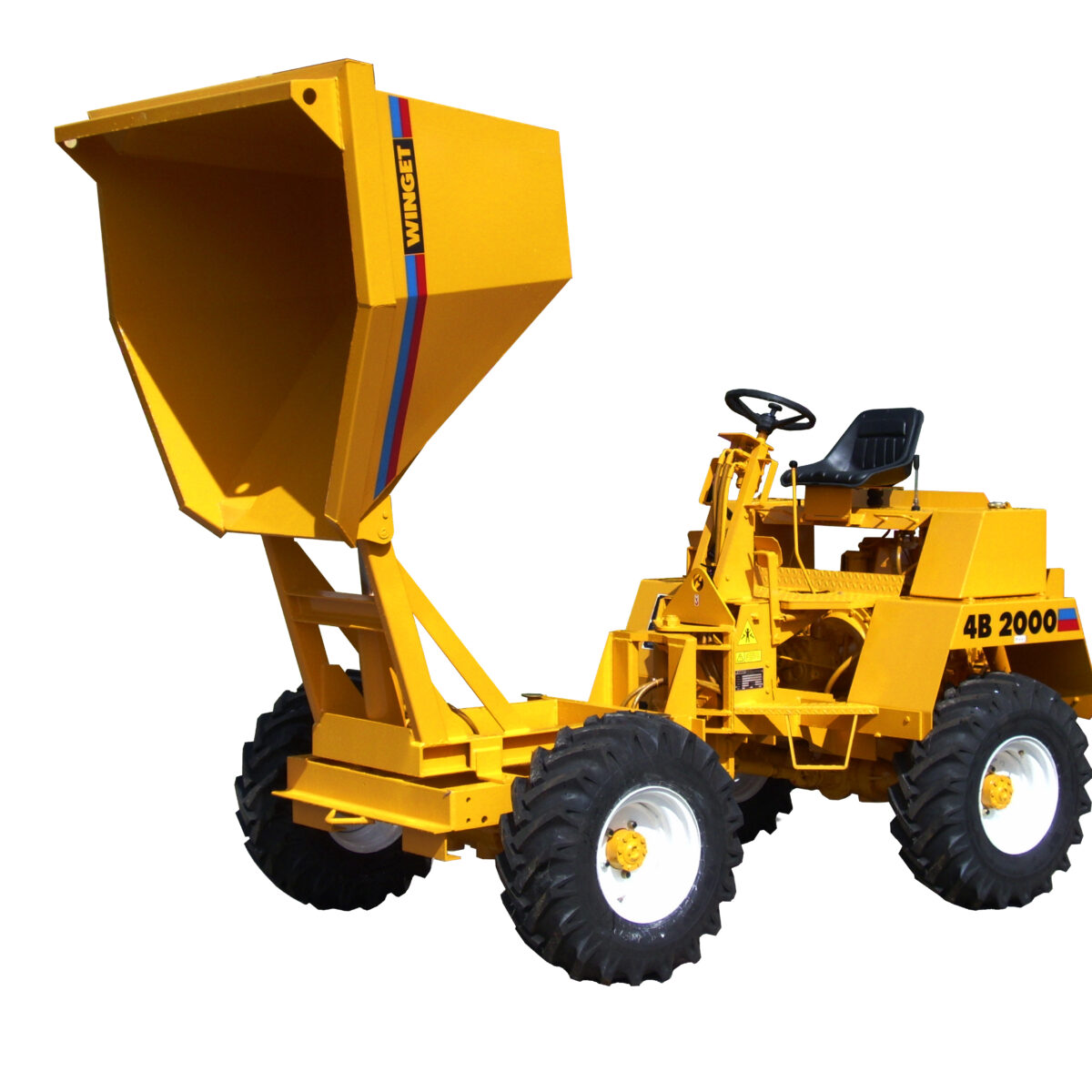 Tough and versatile, WINGET 4B Series dumpers offer reliability and simplicity for a long, productive life
High strength, articulated steel chassis
Lister Petter air cooled diesel engines available with hand or electric start
Hydraulically operated skip with twin rams on standard skip and single ram on high discharge skip model
High discharge skip model available (4B2000 HD)
Oil immersed multi-plate disc brakes
WINGET is an IS0 9001 certified company
Second to none after sales spares service through WINGET'S Worldwide Distributor Network.
View our range below, or contact us if you need some advice.
Skip: Heavy duty 5mm steel plate with skip edges and underside reinforced by welded steel section for maximum durability.
Standard Skip: – hydraulically operated by twin double acting rams.
High discharge Skip:– hydraulically operated by single heavy duty double acting ram.
Engine:Lister Petter TR2 Diesel 19kW (25.4hp) @ 2500rpm. Hand start. (Electric start available as an option).
Chassis: Robust, high strength front and rear chassis. Central articulation pivot, with low maintenance spherical bearings. High articulation angle for tight turning performance.
Transmission: Gearbox and Clutch: Heavy duty consistant mesh gearbox, with 3 forward and 1 reverse gears, driving driving through a single dry-plate clutch. Clutch diameter: 210mm (8.25″)
Transfer box: Chain drive transfer box coupled by heavy-duty propeller shafts to the front and rear axles.
Axles & Brakes:– front axle heavy duty double reduction with fully floating half shafts. Totally enclosed oil immersed multi-plate disc brakes. Rear axle heavy-duty double reduction with fully floating half-shafts. Frame mounted with centre pivot oscillation.
Steering and hydraulics: Full power hydrostatic steering operating through central articulation pivot. Direct drive gear pump, with high capacity return line filtration. Hydraulic tank has lockable filler cap.
Driving position and controls: Central high-mounted driving position for good all-round visibility. Fully cushioned seat with rubber suspension spring, accessible from both sides. Foot and hand controls carefully positioned for maximum operator comfort and easy operation. 1 reverse and 3 forward gears, driving through a single dry-plate clutch.
Options: – electric start, braked rear axle, lighting kit.
Brochures
Products
WINGET 4B2000 HD (HIGH DISCHARGE SKIP)

CAPACITIES:
Payload
2000kg
Water Level
850 litres
Struck
1000 litres
Heaped
1207 litres
Fuel Tank
29.5 litres
Hydraulic Tank
29.5 litres

WINGET 4B2000 HT (LOW DISCHARGE SKIP)

CAPACITIES:
Payload
2000kg
Water Level
850 litres
Struck
1100 litres
Heaped
1500 litres
Fuel Tank
29.5 litres
Hydraulic Tank
29.5 litres