MECHANICALLY FED MIXERS - HOPPER FED, REVERSING DRUM MIXERS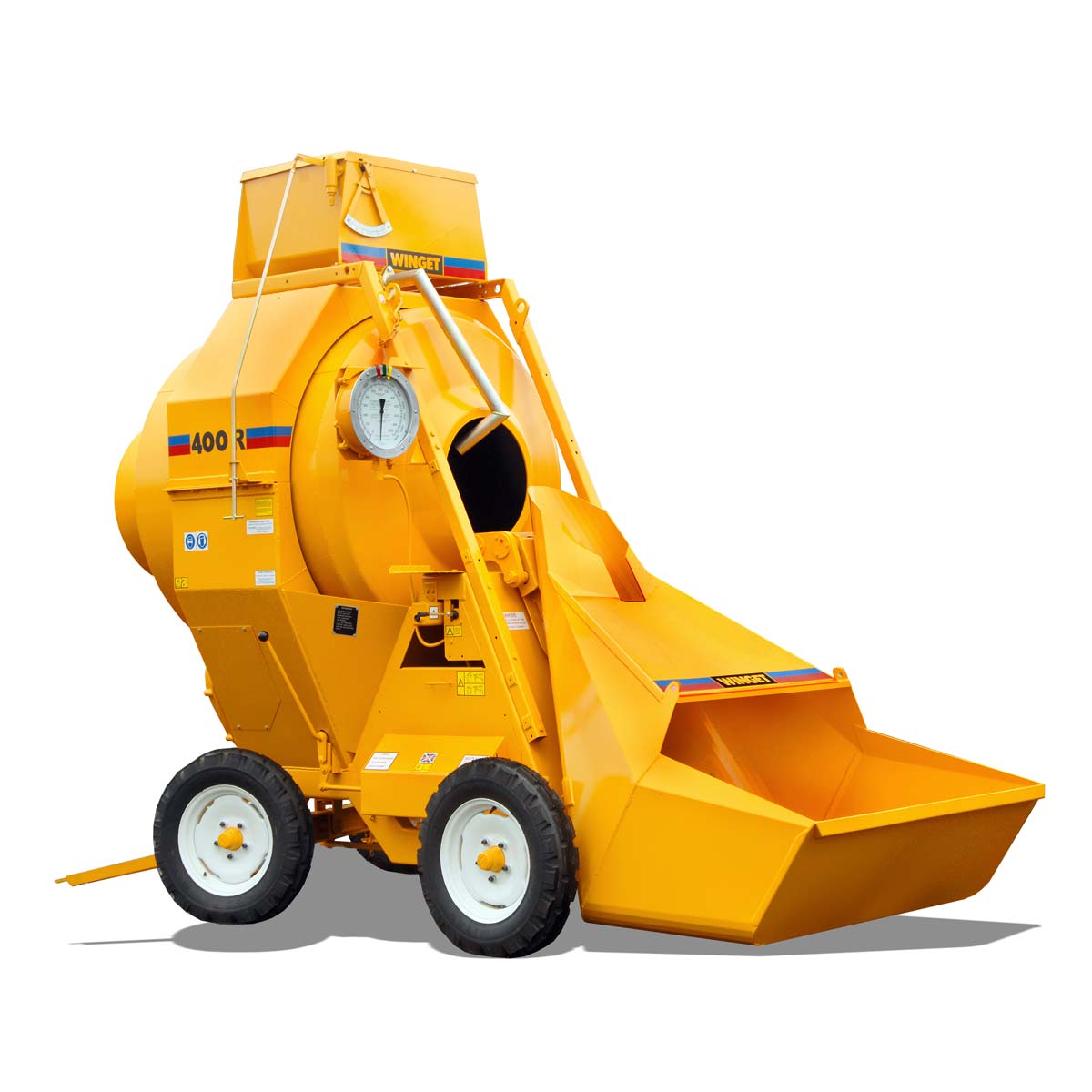 Heavy duty reversing drum mixers manufactured to the highest specification
Self loading concrete mixers fed by mechanical hopper
High capacity mixers capable of producing up to 24 batches per hour. 300R-7.2 cubic metres, 400R-9.6 cubic metres per hour, 500R 12 cubic metres per hour
Standard machine includes water tank with automatic filling and measured volume discharge, or flowmeter.
Hydraulically operated feed hopper Choice of hand/electric start, Lister Petter air cooled diesel engine or 3-phase electric motor
Towable chassis with four pneumatic tyred wheels.
Jacking system allows wheel removal for storage during long term use
WINGET mixers for sale in the EC are CE marked
WINGET is an ISO 9001 certified company
Second to none after sales spares service through WINGET'S Worldwide Distributor Network.
View our range below, or contact us if you need some advice.
Standard Equipment
Chassis: Heavy duty steel section towable chassis with swiveling front axle and four pneumatic tyred wheels for excellent site mobility. Four jack legs give maximum stability throughout the mixing cycle.
Drum: Heavy gauge spun and rolled drum with proven paddle design lead to thorough, efficient mixing and long life. Fitted with heavy duty drum rollers and sealed shaft bearings for reliability.
Driveline: A smooth, reversible drum action, controlled by a single lever, is provided by the heavy duty drive gearbox with oil immersed clutches.
Water Tank: Automatic filling and manually controlled, measured volume discharge. Amount of water discharged is pre-set by a pointer over a graduated scale on the reservoir. Also available with flowmeter in lieu of water tank.
Feed Hopper: Hydraulically operated loading hopper with high discharge angle ensures rapid and clean feed of materials into drum.
Engine: Lister Petter hand/electric start air cooled diesel engine or 3-phase electric motor.
Optional Equipment
Batchweigher: The Winget Batchweigher is designed around a mechanical parallel link which ensures that when the feed hopper is lowered into the loading position, it rests precisely against a hydraulic load-cell located on the mixer chassis. This system provides constantly accurate weight control of the materials fed into the hopper regardless of load distribution. A large weigh dial clearly calibrated in 5kg (11Ib) increments gives the operator an accurate and progressive readout. Weighing is further assisted by a reset facility and three adjustable markers which can be preset for each type of aggregate.
Dragline Feeder: The Dragline Aggregate Feeder maximizes output from Winget hopper-fed mixers by enabling one man to keep the mixer continuously charged with materials. A powered feed shovel, under direct operator control through a switch on the shovel handle, is drawn towards the mixer on a wire rope operated by a hydraulic winch. The filled shovel is then discharged easily into the feed hopper.
Feed Apron: A converging steel ramp provides a direct path for the dragline feed shovel up to the feed hopper, greatly simplifying hopper charging. Dividing partitions keep coarse and fine aggregates separated. The feed apron also prevents aggregate from building up underneath the feed hopper, ensuring batchweigher accuracy by eliminating discrepancies which may otherwise result from material 'build-up'.
Discharge Cones: Discharge Extension cones give greater discharge clearance; available in steel and rubber. They enable accurate discharge into placing vehicle without spillage.
Brochures
Products
WINGET 300R DIESEL

CAPACITIES:
Mixed Batch Output
300 Litres
Unmixed Capacity
400 Litres
Gross Drum Volume
1600 Litres
Drum Speed
14 rev/min
Production Rate
7.2m3/hr
Dragline Shovel Capacity
140 Litres

WINGET 300R ELECTRIC

CAPACITIES:
Mixed Batch Output
300 Litres
Unmixed Capacity
400 Litres
Gross Drum Volume
1600 Litres
Drum Speed
14 rev/min
Production Rate
7.2m3/hr
Dragline Shovel Capacity
140 Litres

WINGET 400R DIESEL

CAPACITIES:
Mixed Batch Output
400 Litres
Unmixed Capacity
600 Litres
Gross Drum Volume
2100 Litres
Drum Speed
14 rev/min
Production Rate
9.6m3/hr
Dragline Shovel Capacity
140 Litres

WINGET 400R ELECTRIC

CAPACITIES:
Mixed Batch Output
400 Litres
Unmixed Capacity
600 Litres
Gross Drum Volume
2100 Litres
Drum Speed
14 rev/min
Production Rate
9.6m3/hr
Dragline Shovel Capacity
140 Litres

WINGET 500R DIESEL

CAPACITIES:
Mixed Batch Output
500 Litres
Unmixed Capacity
750 Litres
Gross Drum Volume
3200 Litres
Drum Speed
14 rev/min
Production Rate
12m3/hr
Dragline Shovel Capacity
140 Litres

WINGET 500R ELECTRIC

CAPACITIES:
Mixed Batch Output
500 Litres
Unmixed Capacity
750 Litres
Gross Drum Volume
3200 Litres
Drum Speed
14 rev/min
Production Rate
12m3/hr
Dragline Shovel Capacity
140 Litres