MECHANICALLY FED MIXERS - HOPPER FED TILTING DRUM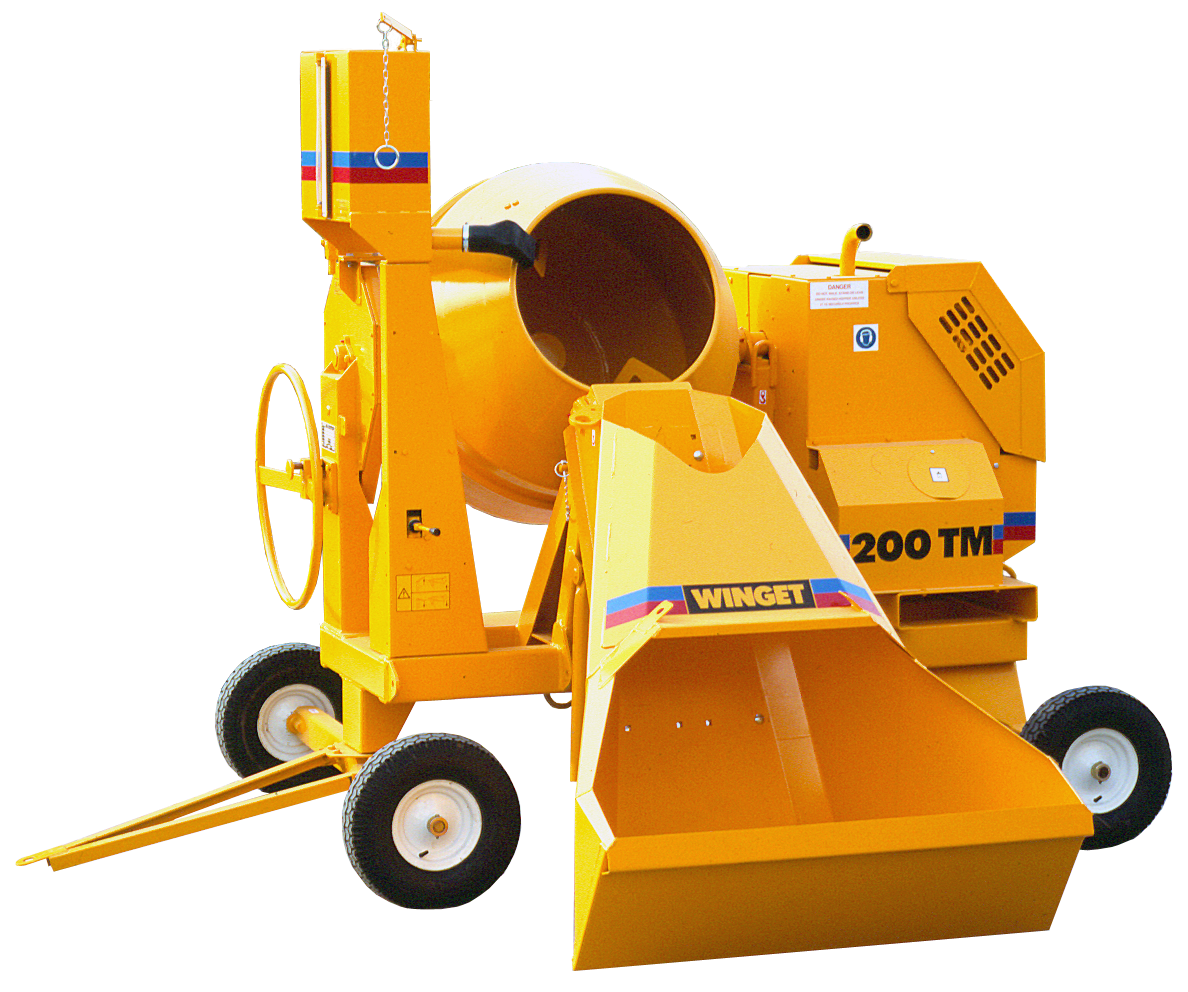 A low cost concrete mixer with mechanical hopper and manual tilting drum mixer
High capacity mixer capable of producing up to 20 batches (4 cubic metres) per hour
Materials loaded using a hydraulic loading hopper to ensure high production rates
Choice of Lister Petter TS1 diesel engine or 3-phase electric motor
Positive heavy duty driveline using roller chain bevel wheel and pinion
Jacking system allows wheel removal for storage during long term use
38 litre water reservoir with manually controlled filling and measured quantity discharge
Outrigger legs maintain stability throughout the loading cycle
WINGET is an ISO 9001 certified company
Second to none after sales spares service through WINGET'S Worldwide Distributor Network.
View our range below, or contact us if you need some advice.
Standard Equipment
Chassis: Heavy gauge, box section chassis and outrigger legs leads to extra stability, reliability and durability.
Drum: Two piece, spun steel drum assures long life and easy replacement. Winget drum design ensures thorough, efficient mixing.
Engine: Powered by Lister Petter TS1 hand start, air cooled diesel engine starting. Also available with 415v 3-phase electric drive.
Driveline: Totally enclosed, heavy duty driveline through roller chain cast bevel wheel and pinion.Electric drive machines utilize drive belt.
Access: Good all round access to daily check points, service items and all replaceable components.
Axles/Wheels: Fixed rear axle and swivelling front axle fitted with four rubber cushion tyres and towbar.
Electric Drive Machines: Have drive belt.
Optional Equipment
Batchweigher: Facilitates accurate weighing of each type of aggregate. Includes a large weigh dial clearly calibrated in 5kg increments and three adjustable markers further assist accuracy and consistent mix quality.
Feed Apron: Simplifies hopper charging by providing a direct path for aggregate up to the feed hopper on the converging steel ramp. dividing partitions keep coarse and fine aggregates separated.
Dragline Feeder: Maximises output by enabling one man to keep the mixer continuously charged with materials. A powered feed shovel under direct operator control through a switch on the shovel handle, is drawn towards the mixer on a wire rope operated by a hydraulic winch. The filled shovel is them discharged easily into the feed hopper.
Chassis: Heavy gauge, box section gives clean lines and less material traps. Fitted with lifting points.
Brochures
Products
WINGET 200TM – DIESEL

CAPACITIES:
Mixed Batch Output
200 Litres
Unmixed Capacity
285 Litres
Gross Drum Volume
485 Litres
Drum Speed
22 rev/min
Production Rate
4m3/hr
Dragline Shovel Capacity
140 Litres

WINGET 200TM – ELECTRIC

CAPACITIES:
Mixed Batch Output
200 Litres
Unmixed Capacity
285 Litres
Gross Drum Volume
485 Litres
Drum Speed
22 rev/min
Production Rate
4m3/hr
Dragline Shovel Capacity
140 Litres